Hello there, my crochet Friends!
Are you ready to add a touch of handmade charm to your reading adventures?
Today, I have a special treat for you— a Crochet Bookmark Pattern for Beginners, that anyone can make even if you are a very experienced crafter too!
It's time to unleash your creativity and embark on a journey of stitches as we create practical and adorable bookmarks together. So grab your crochet hooks, select your favorite yarn colors, and let's dive into this fun and rewarding project that will make your reading experience even more delightful!
Find the free pattern below or purchase the ad-free PDF version of this pattern on Ravelry. The PDF is designed for printing and this way you can support me!
It's a great pattern because:
Sooo easy to make
You learn a new stitch
Instant rewarding
You can sell them, gift them or make in rainbow colors
---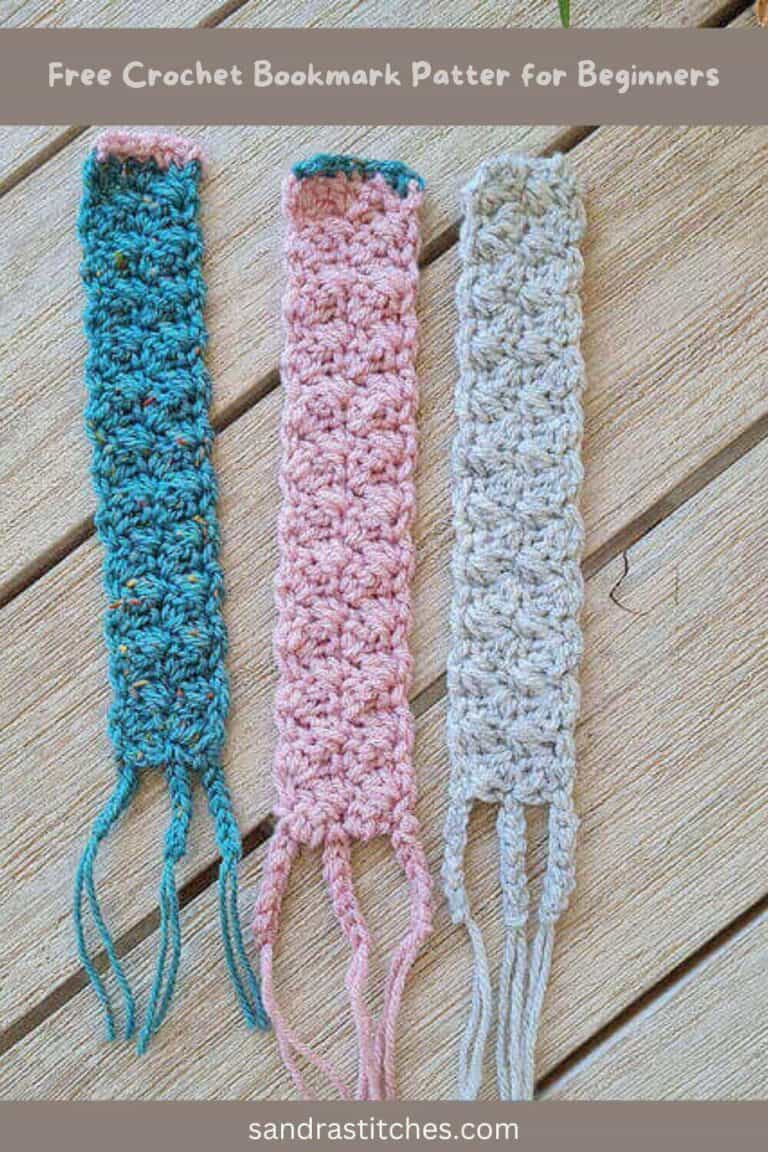 ** Some of the links in this post may include affiliate links. Making a purchase through one of these links pays me a small referral fee at no added cost to you. These small fees add up and help me keep the blog running. View our Disclosure and Privacy Policy for more information.
Before you get started…
Check out my Favorite items and tools
Rechargeable LED night reading light on Amazon
Bamboo Hooks on Amazon
Colorful Bobby pins as crochet markers on Amazon
---
Why a Bookmark?
Let's talk about bookmarks, those trusty companions that keep our place in the captivating stories we immerse ourselves in.
While there are countless options out there, there's something truly special about a handmade bookmark. It's a small piece of art, crafted with love and care, that adds a personal touch to our reading experience.
With this Crochet Bookmark pattern for Beginners with every stitch, you're not only creating a functional tool but also a keepsake that holds memories of cozy evenings and literary adventures.
So, why settle for a mass-produced bookmark when you can enjoy your reading moments with the warmth and personality of something handmade?
It's a simple yet powerful way to celebrate the joy of crafting and the magic of literature all in one!
Pattern Designed By: Sandra Stitches This pattern is copyright protected; it is unlawful to distribute this pattern in any form (free, sale or trade).
Let's get to the pattern, shall we?
Difficulty
Beginner
Materials
Scrap Yarn from your stash.
Any weight #4 yarn, recommended Acrylic for care.
Hook: US Size H-8 (5 mm)
Yarn Needle, Scissors, Measuring Tape
Gauge
Sizes
This sample is: 1.5" wide and 9" long (without tassels)
Stitch Key
Ch = Chain
Sc = Single Crochet,
St = Stitch
Dc = Double Crochet ,
Specialty Stitches

Suzette st = Sc1 + Dc1 in same st, Skip 1 , Sc+Dc in next, Finishing with 1Sc at end of row
Notes
The pattern is worked in rows
Ch1 does not count as st at the beginning of each row
This pattern uses pattern repeats.
You can work this pattern with one color or multiple as you wish- I used one solid color
If changing colors make sure to have a changing technique and weave your ends in.
This pattern calls for an odd # of stitches
Want to save this post for later? Pin it!
What about the instructions?
Instructions
Chain 7
Row 1: Suzette st in 2nd st from hook, skip 1 st, Suzzete st in next and across to remaining last st, and finish the row with 1Sc, turn work (9)
Row 2: Ch1, Suzette st in 1st st from hook, skip 1, Suzette in next (always work on top of Sc from prev row, Finish row with 1Sc in last st, turn work (9)
Next Row 3: Repeat Row 2
I made 24 repeats
Finishing
Finish by adding three chains to the bottom of the Bookmark.
Chain 5, fasten yarn, and leave 3 " as fringe if desired. Repeat on each corner and middle as shown in the photo.
You can add a Sc row to the top of the Bookmark in different colors for more personality!
Free ways to share and support me
Favorite this pattern on Ravelry
PIN on Pinterest
Share in your story on Instagram
Share on Facebook

Thank you so much! 🙂
Get your Ad-Free version on Ravelry
Interested in a professional Paperback Crochet Planner?
Before you leave 🙂
Did you try this pattern?
Share a picture
Tag me on Instagram
@sandrastitchesil
DISCLOSURE
AMAZON ASSOCIATES: Sandra Stitches is a participant in the Amazon Services LLC Associates Program, an affiliate advertising program designed to provide a means for sites to earn advertising fees by advertising and linking to Amazon.com.
This post contains links to products that I use and recommend, If you purchase any using my links I get a very small fee at no ad to you! Thank you for supporting my small biz!
You may also like:
Crochet Table Runner for Beginners
Crochet Slouchy Hat Pattern