Hey there fellow crochet enthusiasts! I am beyond excited to share with you a free pattern for a simple yet versatile Easy Hanging Basket that will add a touch of coziness and functionality to any room in your home. As a passionate crafter myself, I know how satisfying it can be to create something beautiful and practical with just a hook and some yarn. Whether you're a seasoned pro or just starting out on your crochet journey, this pattern is perfect for you. So grab your favorite yarn and let's get hooking!
---
Find the free pattern below or purchase the ad-free PDF version of this pattern on Ravelry. The PDF is designed for printing and this way you can support me!
Are you as thrilled about this pattern as I am? Just imagine the possibilities – a bathroom organizer, a toy room tidy-up, or a cozy addition to your kitchen or bedroom decor!
The best part? You can use cotton yarn or acrylic in any color that fits your unique style.
So let's get crafting and make this project our own!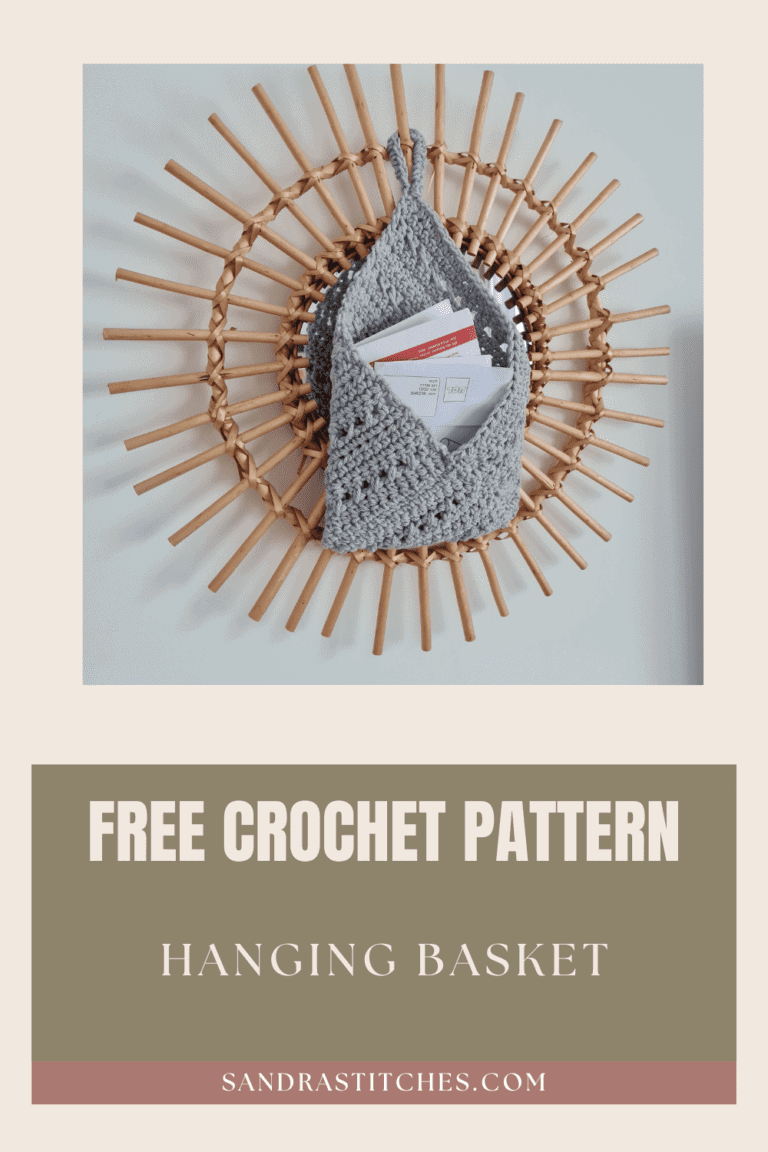 ---
** Some of the links in this post may include affiliate links. Making a purchase through one of these links pays me a small referral fee at no added cost to you. These small fees add up and help me keep the blog running. View our Disclosure and Privacy Policy for more information.
SKILL LEVEL
Beginner
FINISHED MEASUREMENTS
12" X 12 " square
YARN
½ skein of Hayfield Bonus Chunky Extra Value, 100gr, 100% acrylic, 150yrd, 137 meters
Substitutions can be:
---
HOOK & OTHER MATERIALS
STITCH KEY
Ch = Chain
Sl St = Slip Stitch
Sc = Single Crochet
Hdc = Half Double Crochet
SPECIALTY STITCHES
X -st : [skip 1 st, dc in next st, dc in skipped st.
---
Want to save this post for later? Pin it!
NOTES
The pattern is worked in Rows
Beginning ch1 does not count as 1st st
This pattern has an even number st in the row
This pattern has to be a perfect square to become an envelope basket
INSTRUCTIONS:
Foundation chain: chain 31
Row 1: Hdc 1 in 2nd ch from hook, Hdc 1 in next ch, and in every ch across to end of row
Row 2: ch1 and turn your work, sc1 in 1st st from hook, sc 1 in next st and in every st across to end of row
Now Row 3: ch1 and turn your work, dc1 in 1st st from hook, dc 1 in next st, X st * [skip 1 st, dc in next st, dc 1 in skipped st]* repeat from * to * until  2 last stitches, dc1 in each st of 2 last stitches
Row 4: ch1 and turn your work, sc2 in 1st st from hook, sc1 in next st and in every st across to end of row.
Repeat rows 1-4 five times to make a square
Handle
When you reach the last st in your last row, chain 10 and sl st to the same st you started with, turn and sc 12 back and sl st again, fasten your yarn, and cut.
Free ways to share and support me
Forming the envelope shape
Follow the pictures here to fold your work and form the shape.
Lay your work flat with the right side facing you.
Sew the three triangles with a tapestry needle
DONE!!
Copyright protected. You may not redistribute pattern after purchase or publish any part as your own including photos. If sharing online you must link back to this original post. You may sell finished products and if possible, reference back to this pattern and/or give credit to Sandra Stitches by Sandra as the original designer.
I hope you enjoyed this Easy Hanging Basket Crochet Pattern tutorial as much as I did!
Remember, the beauty of this project is that you can easily customize it to fit your needs and style.
So why not make a few and brighten up every corner of your home?
Don't forget to share your creations with us – we can't wait to see what you come up with! Happy hooking!
Did you try this pattern?
Share a picture
Tag me on Instagram
@sandrastitchesil
Check out these awesome deals for your crochet journey :
Colorful Bobby pins as stitch markers
Rechargeable LED Neck Reading Light
Storage Bins for all your Crochet items