Imagine preparing for a dinner party and feeling like something is missing.
Plain, uninspiring placemats just won't cut it. But then, you remember a free crochet placemat pattern you saw online for a crocheted Tangerine Placemat.
You pick up your crochet hook, stitch away, and soon, you've created a masterpiece. The bright orange hue ties the whole room together and adds a touch of whimsy to your table.
All your friends ooh and aah over the unique placemats, and you feel a sense of pride knowing that you've added your personal touch to the evening. The Tangerine Free Crochet Placemat Pattern has transformed your dining experience from boring to magical.
Find the free pattern below or purchase the ad-free PDF version of this pattern on Ravelry. The PDF is designed for printing and this way you can support me!
---
Cotton yarn and environment
Ok, now your friends and family love your new crocheted placemats! but there is more….
Not only do handmade placemats add a unique and personal touch to your dining experience, but they're also a sustainable choice for the environment.
By using cotton yarn, you're opting for a natural and biodegradable material, unlike plastic or synthetic placemats that can harm the planet. Plus, you can wash and reuse your handmade placemats again and again, reducing waste and promoting eco-friendliness.
It's a win-win for both you and the environment.
Get your Ad-Free version on Ravelry
---
** Some of the links in this post may include affiliate links. Making a purchase through one of these links pays me a small referral fee at no added cost to you. These small fees add up and help me keep the blog running. View our Disclosure and Privacy Policy for more information.
Let's get to the pattern, shall we?
Difficulty
Intermediate
Materials
Drops Paris 100% cotton yarn, 50gr, 75 mtr, 82yrds in color 71 one skein per placemat
Subs: Here
Hook: US Size H-8 (5 mm)
Yarn Needle, Scissors, Measuring Tape
Gauge
16 st X 7 rows of pattern stitches
Sizes
Stitch Key
Ch = Chain
Sc = Single Crochet
St = Stitch
DC = Double Crochet
Notes
The pattern is worked in rows
This pattern is worked as one main panel and rows on both sides
Ch3 at the beginning of the row does count as 1st stitch
Ch1 at the beginning of the row does not count as a stitch
This pattern uses pattern repeats.
You can work this pattern with one color or multiple as you wish- I used one color
If changing colors make sure to have a changing technique and weave your ends in.
Check out my recommendations!
Bamboo hooks – my favorite!
Colorful Bobby pins as Stitch Markers – make all the difference!
Tapestry needles – That make the work!
---
---
Main panel
Chain multiples of 8+4 for this placemat I chained 28
Row 1: Dc1 in 5th Ch from hook ( counts as 1st Dc + Ch1), Ch1, *[skip 1 st, Dc1 in next st]* repeat from *to* to end of row, ending with Dc1,turn work,
Row 2: Ch3, * [skip next 2 Ch1 spaces, (Dc3 +Ch2+Dc3) in next Ch1 space from prev row, skip next 2 Ch1 spaces, Dc1 in next Dc]* repeat from *to* across, ending with last Dc ion top of Ch3 from the beginning of row, turn
Now to Row 3: Ch 6 (counts as Dc+Ch3), *[Sc1 in next Ch2 space from prev row, Ch3, skip next 3 st, Dc1 in next st,, Ch3 ]* repeat to end of row, end with Dc1 on top of Ch3 form beginning Ch, turn work
Row 4: Ch4 (counts as Dc + Ch1), *[Dc1 in next Ch3 loop, Ch1, Dc1 in next Sc, Ch1, Dc1 in next Ch3 loop, Ch1, Dc1 in next Dc, Ch1]* repeat fron *to* to end of row, finish withDc1 in 3rd Ch of beginning, turn work
And Row 5-7: Repeat rows 2-4
Row 8- 25: Repeat rows 2-4
---
Endless possibilities for your Deco'r
We finished the main panel, now we will work on both sides of the placemat with this identical pattern
Row 1: Start at 1st st facing the long side of the panel, insert your hook, Ch1, and Dc1in 1st st, Dc 50 across to end of the row, turn
Row2: Ch1, Sc1 in 1st st from hook, Sc1 in next and across to the end of the row, turn
Row 3: Ch1, Dc1 in 1st st from hook, Dc1 in next and across to the end of the row.
Work the same on the opposite side
If you wish to make this placemat wider you can either add multiples of 8 at the foundation chain or add rows on the sides
Finishing
Cut your yarn and weave in the ends.
DONE!!
Copyright protected. You may not redistribute pattern after purchase or publish any part as your own including photos. If sharing online you must link back to this original post. You may sell finished products and if possible, reference back to this pattern and/or give credit to Sandra Stitches by Sandra as the original designer.
Want to save this post for later? Pin it!
Free ways to share and support me
Favorite this pattern on Ravelry
PIN on Pinterest
Share in your story on Instagram
Share on Facebook

Thank you so much! 🙂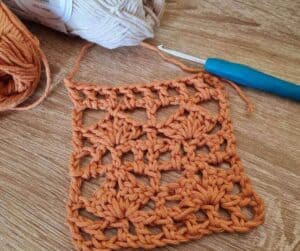 I hope this tutorial has inspired you to create your own Tangerine Crochet Placemat and explore the wonderful world of handmade decor.
Don't be shy – show off your finished project in our free Facebook community!
It's a supportive space full of fellow crafters who share your passion for all things handmade. Who knows, you might even inspire someone else to give crocheting a try.
So grab your hook, get crafting, and let's spread some handmade love together!
Interested in a professional Paperback Crochet Planner?
Before you leave 🙂
Did you try this pattern?
Share a picture
Tag me on Instagram
@sandrastitchesil
DISCLOSURE
AMAZON ASSOCIATES: Sandra Stitches is a participant in the Amazon Services LLC Associates Program, an affiliate advertising program designed to provide a means for sites to earn advertising fees by advertising and linking to Amazon.com.
This post contains links to products that I use and recommend, If you purchase any using my links I get a very small fee at no ad to you! Thank you for supporting my small biz!
You may also like:
Crochet Market Tote Bag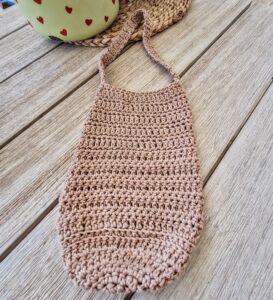 Hanging Basket Pattern