Hello, my wonderful crafters! Today, we're exploring the fascinating world of yarn weights. Let me tell you, understanding these yarn-weight superheroes is like having a special power to create amazing crochet projects!
It's like having a secret ingredient that makes our creations extra special. So, let's grab our yarn and needles and embark on this exciting yarn-weight journey together!
---
** Some of the links in this post may include affiliate links. Making a purchase through one of these links pays me a small referral fee at no added cost to you. These small fees add up and help me keep the blog running. View our Disclosure and Privacy Policy for more information.
---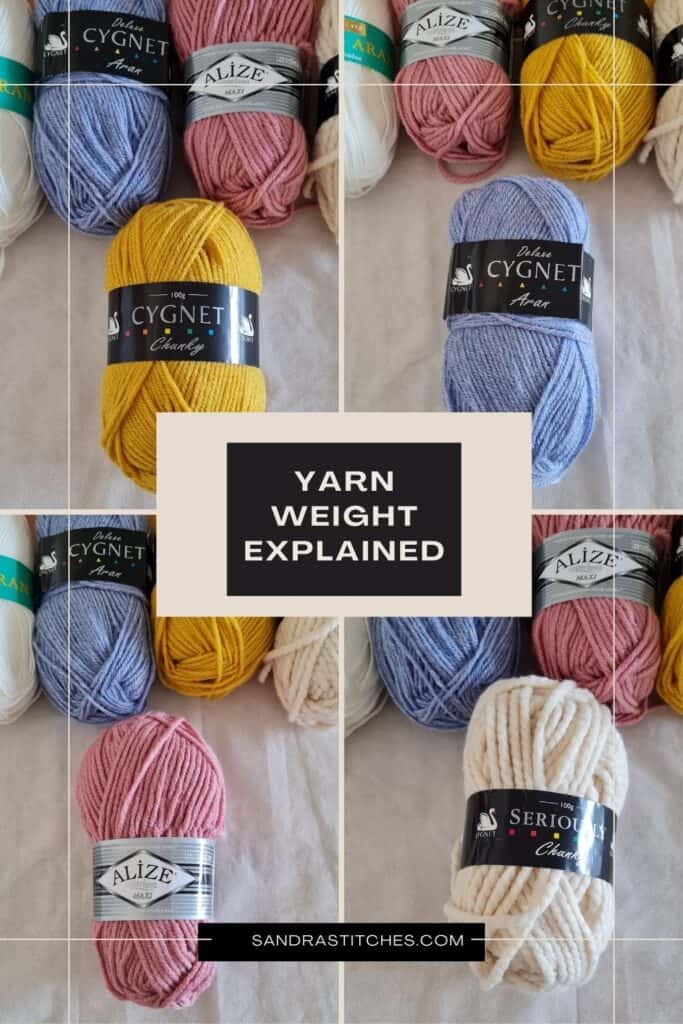 ---
Understanding Yarn Weights: Decoding the Categories
Picture yourself strolling down the aisles of a craft store, and you'll see yarns of various thicknesses, from barely-there lace yarns to super thick jumbo ones.
These different thicknesses are grouped into seven categories, each with its unique qualities. Think of them as different teams of superheroes, ready to help you in your creative journey!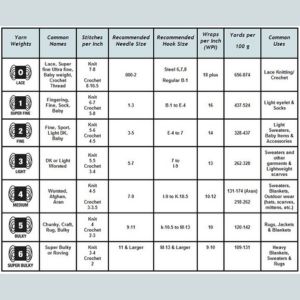 ---
---
Want to save this for later: Pin it!
---
Why is it so important to understand Yarn Weights?
Understanding yarn weights is essential for any crocheter.
Firstly, it ensures that your finished projects turn out just the way you envision them. By choosing the right yarn weight, you can achieve the perfect fit for clothing items or the ideal drape for shawls and blankets.
Secondly, it helps you select the appropriate yarn for each project, preventing disappointments and ensuring you have the right tools for the job.
Moreover, mastering yarn weights allows you to confidently substitute yarns, giving you the freedom to get creative and experiment with different textures and colors.
Lastly, knowing yarn weights empowers you to create consistent and harmonious projects, making your crafting journey a delightful and successful one!
---
Grab your seat at the Live presentation I gave, so you go deeper into this subject
---
Super Fine 1
"Super Fine" (1). It's just a tad heavier than "Lace" and goes by names like fingering or baby-weight yarns. Use it to create precious dainty socks, adorable baby clothes, and lightweight items for your little ones – pure magic for their wardrobe!
Fine 2
"Fine" (2), also known as sport weight yarns. It's a bit thicker than "Super Fine" and perfect for crafting cozy sweaters, hats, and lightweight clothing items. This versatile yarn is like your trusty friend, always ready to tackle various projects with ease!
Light 3
Say hello to the delightful "Light" (3), also known as DK weight or double knitting yarns. It's slightly heavier than "Fine" and brings double the fun to your crafting. Create cozy sweaters, hats, scarves, and delightful baby clothes – all while embracing the joy of crafting!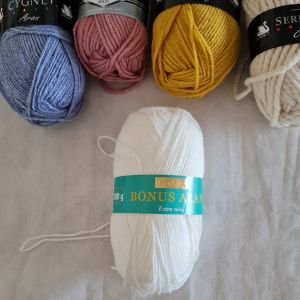 ---
---
Check some yarn deals
---
Medium 4
Meet the all-purpose heroes – "Medium" (4)! Known as worsted weight or aran yarns, they're a go-to choice for many crafters. Slightly heavier than "Light," they can be used for a wide range of projects, from comfy afghans to stylish hats – the ultimate versatile team!
Bulky 5
Feeling cozy? Enter the "Bulky" (5) team! It's here to help your projects grow quickly. Heavier than worsted weight yarns, it's perfect for crafting warm and snug sweaters, hats, scarves, and cuddly blankets – wrap yourself in the warmth of this yarns creations!
---
Super Bulky
Now we have the "Super Bulky" (6) – the extra fluffy squad! 🌟 If you're craving instant gratification, this is your go-to choice. Among the heaviest yarns, it's perfect for quickly crocheting hats, scarves, and super cozy blankets – pure delight for chilly days!
Jumbo
Well, Jumbo weight yarn is the heavyweight champion of yarns, perfect for creating large-scale projects and cozy accessories in no time! With its thickness and bulkiness, jumbo yarn is like crafting with a soft cloud!
---
---
The huge benefits of understanding Yarn weights
Imagine you're crafting a cozy sweater or some snuggly socks, but they end up way too big or small – not what you wanted at all! That's where yarn weights come to the rescue! By choosing the right yarn weight, your projects will fit perfectly, and you'll feel like a crafting pro!
Before you start your crafting adventure, there's a little secret test called the gauge swatch. It helps you figure out the exact number of stitches and rows for the perfect sizing. Just weave a small sample with your chosen yarn and needles – easy peasy!
Crafting with different yarns for a beautiful blanket can be fun, but you might end up with squares of different sizes – not so cool. No worries, though! Stick to the same yarn weight category for all your yarns, and you'll have consistent sizing throughout your lovely creation. It's like a crafting team working together!
Now, let's unravel the mystery of ply. It's simply the number of strands twisted together to make a yarn. The more ply, the thicker the yarn – just like having more friends in your crafting group!
One last thing….
And if you can't find the exact yarn weight for your pattern, don't fret! You can still create wonders by using substitute yarns. Just find one with the same wraps per inch (WPI) as your pattern, and your project will turn out fantastic!
---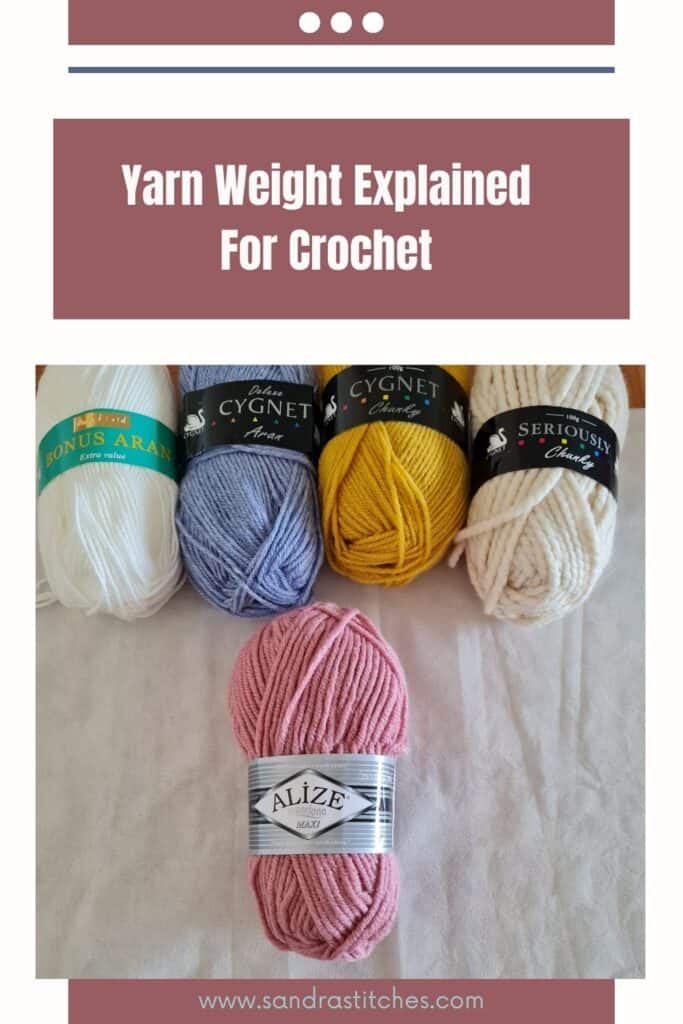 Questions?
Ask and share in our
FREE Facebook Group
---
---
DISCLOSURE
AMAZON ASSOCIATES: Sandra Stitches is a participant in the Amazon Services LLC Associates Program, an affiliate advertising program designed to provide a means for sites to earn advertising fees by advertising and linking to Amazon.com.
This post contains links to products that I use and recommend, If you purchase any using my links I get a very small fee at no ad to you! Thank you for supporting my small biz!