Get Inspired! Get Motivated!
Motivational quotes are like little rays of sunshine that brighten our everyday lives.
They can lift our spirits, kickstart our creative engines, and push us toward achieving our dreams.
When we find ourselves stuck or unsure, these quotes serve as our trusty companions, reminding us of our incredible potential and urging us to keep going, even when the going gets tough.
They're like our personal cheerleaders, offering comfort and encouragement during moments of doubt.
With their wisdom and charm, these quotes can shape our mindset, boost our confidence, and ignite that spark of inspiration.
So, let's embrace the power of motivational quotes and let them guide us on our daily creative adventures, reminding us that we have the strength to conquer any artistic challenge that comes our way.
Find all my patterns to purchase as an ad-free PDF version on  Ravelry. The PDF is designed for printing and this way you can support me!
** Some of the links in this post may include affiliate links. Making a purchase through one of these links pays me a small referral fee at no added cost to you. These small fees add up and help me keep the blog running. View our Disclosure and Privacy Policy for more information.
Before you get started…
Check out my Favorite items and tools
Rechargeable LED night reading light on Amazon
Bamboo Hooks on Amazon
Colorful Bobby pins as crochet markers on Amazon
How to use these Free Crochet Motivational Quotes?
Using motivational quotes in our daily lives adds a touch of magic. Here's how:
Morning Boost: Start your day with a quote that resonates. Let it inspire and set the tone for a creative day.
Inspiring Surroundings: Decorate your creative space with favorite quotes, creating an environment of inspiration.
Reflect and Write: Journal about meaningful quotes, exploring their relevance to your creative aspirations.
Share the Spark: Spread motivation by sharing quotes with others, online or in personal messages.
Personal Affirmations: Craft affirmations from quotes, repeating them daily to bolster confidence and creativity.
Want to save this post for later? Pin it!
By embracing motivational quotes, we infuse our creative journey with inspiration and belief in our own potential.
Free ways to share and support me
Favorite my patterns on Ravelry
PIN on Pinterest
Share in your story on Instagram
Share on FacebookThank you so much! 🙂
.
Listen to this video while crocheting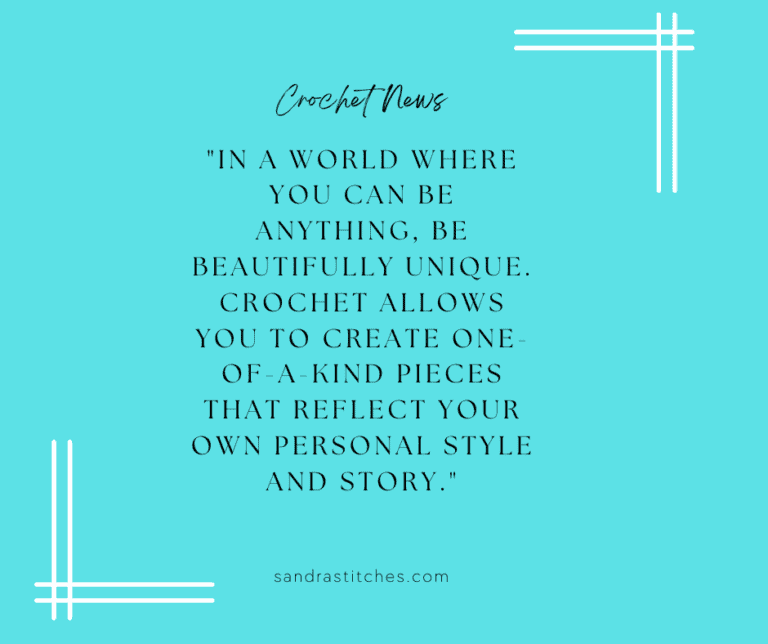 Come back to this post as I will update with more Quotes in the future
Interested in a professional Paperback Crochet Planner?
Before you leave 🙂
Did you use this quotes?
Share a picture
Tag me on Instagram
@sandrastitchesil
DISCLOSURE
AMAZON ASSOCIATES: Sandra Stitches is a participant in the Amazon Services LLC Associates Program, an affiliate advertising program designed to provide a means for sites to earn advertising fees by advertising and linking to Amazon.com.
This post contains links to products that I use and recommend, If you purchase any using my links I get a very small fee at no ad to you! Thank you for supporting my small biz!
You may also like: