Hello, my Crochet friends!
Introducing the new Free Crochet Water Bottle Holder Pattern!
Calling all eco-crafters! Say goodbye to lugging around your water bottle and hello to hands-free convenience.
This eco-friendly accessory keeps your bottle secure while you go about your day. Picture yourself strolling through the park, sipping sustainably, and leaving single-use plastic in the past.
Grab your crochet hook and eco yarn, and get ready for this easy two-row repeat Crochet Water Bottle Holder Pattern guide to a stylish, sustainable solution.
Crochet your way to an eco-conscious day-to-day routine!
Find the free pattern below or purchase the ad-free PDF version of this pattern on Ravelry. The PDF is designed for printing and this way you can support me!
What is the best yarn for a crochet water bottle holder?
When it comes to your water bottle crochet patterns, I highly recommend going for cotton yarn.
Why? Well, think about it. You'll be taking this item outdoors, handling it a lot, and it's bound to need a good wash every now and then. That's where cotton yarn shines! It's not only durable but also performs exceptionally well with frequent washing. So, go ahead and get some trusty cotton yarn for your water bottle creations. You'll be glad you did!
Grab your hooks and get ready to create the ultimate water bottle holder using these fantastic cotton yarns!
---
** Some of the links in this post may include affiliate links. Making a purchase through one of these links pays me a small referral fee at no added cost to you. These small fees add up and help me keep the blog running. View our Disclosure and Privacy Policy for more information.
Before you get started…
Check out my Favorite items and tools
Rechargeable LED night reading light on Amazon
Bamboo Hooks on Amazon
Colorful Bobby pins as crochet markers on Amazon
---
Let's get to the pattern, shall we?
Difficulty
Easy
Materials
Drops Loves You 8 100% cotton yarn, 50gr, 85 m,
93 yards,2 skeins, # 06 Blue
(double strand)
Subs: Dishie from KnitPicks
Hook: US Size J (6 mm)
Yarn Needle, Scissors, Measuring Tape
Gauge
Sizes
Stitch Key
Ch = Chain
Sc = Single Crochet
St = Stitch
DC = Double Crochet
Sl st = Slip stitch
Bldc = Back loop only Double Crochet ( insert hook in back loop, yo and finish a double crochet st)
Pattern Designed By: Sandra Stitches This pattern is copyright protected; it is unlawful to distribute this pattern in any form (free, sale or trade).
Keep reading for the free pattern which includes detailed instructions on how to crochet the Primrose stitch on the round
Some notes before we start the crochet Water Bottle Holder Pattern
The pattern is worked in rounds
The pattern is worked using two strands of yarn for more sturdiness.
This pattern is worked in one piece
Ch2 at the beginning of the round does count as 1st stitch
Ch3 at the beginning of the round does count as 1st stitch
Ch1 at the beginning of the round does not count as a stitch
You can work this pattern with one color or multiple as you wish- I used one color
If changing colors make sure to have a changing technique and weave your ends in.
Want to save this post for later? Pin it!
Now to the instructions!
When crocheting a water bottle holder you start at the bottom, working in the round by increasing stitches, and then continue with the body without increasing.
Before finishing and cutting off your yarn we will work the straps.
The Body
Chain 4 and Sl st to form a circle
Round 1: into the circle: Ch2, Hdc 7, Sl st in to the top of Ch2 (8)
Round 2: INC Ch2, Hdc in 1st st from hook, Hdc2 in next st, Hdc2 in next and around to end of the round, Sl st to 1st Ch of Ch2 (16)
Next is Round 3: INC Ch2, Hdc2 in next st, Hdc1 in next st, Hdc2 in next, alternate around to the end of the round, finishing with Hdc2 in last st, Sl st to 1st Ch of Ch2 (24)
Round 4: Ch1, Bldc in 1st st from hook, Bldc in next and around to the end of round, Sl st to 1st st.
The Primrose stitch ( watch the video tutorial below)
Now Round 5: Ch1, Sc1+ch2+Sc1 in 1st st from hook, skip 2 st, *[(Sc1+Ch2+Sc1) in next st, skip 2 st]*, repeat fron *to* to end or round, Slst to 1st st.
Round 6: Sl St to Ch2 space, Ch3 in Ch2 space, Dc2 in same Ch2 space (cluster of 3 Dc's), Dc3 in next Ch2 space, Dc3 in next Ch2 space , continue around, finish in last Ch2 space, Sl st to 1st Ch of Ch3
Repeat Round 7-12: Repeat rounds  5+6
Round 13+14: Ch1, Sc1 in 1st st from hook, Sc1 in next and around to the end, Sl st to 1st Sc (do not cut yarn)
The Straps
Ch 80 or more as long as you wish the strap to be, Slst to the opposite side, Sl st to next st, Sl st to next, and around to secure the straps.
Finishing
Cut your yarn and weave in the ends.
You can add beads to the straps.
You can make them longer
Free ways to share and support me
Favorite this pattern on Ravelry
PIN on Pinterest
Share in your story on Instagram
Share on Facebook

Thank you so much! 🙂
.
Watch the video tutorial
Get your Ad-Free version on Ravelry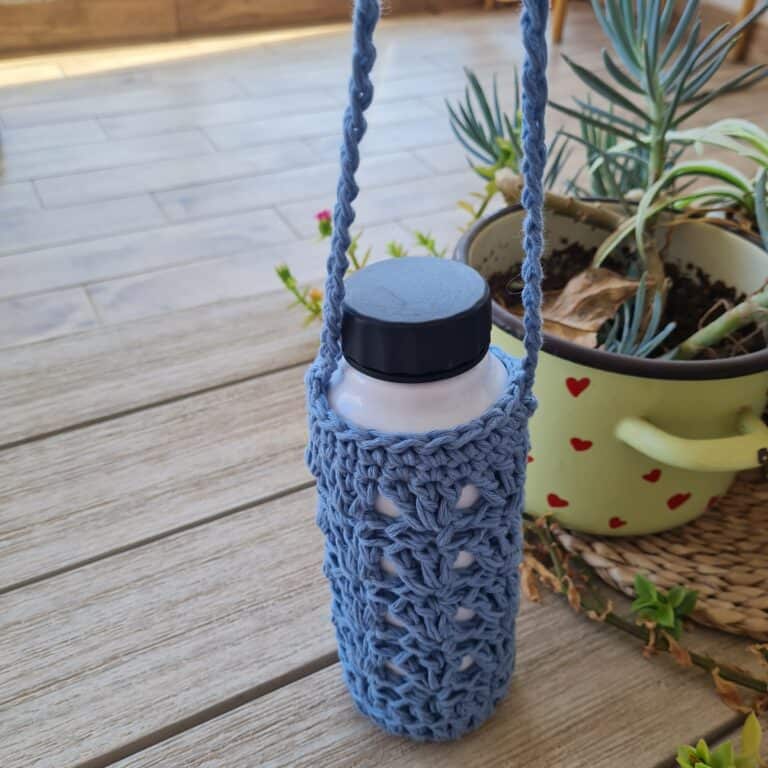 Before you leave 🙂
Did you try this pattern?
Share a picture
Tag me on Instagram
@sandrastitchesil
DISCLOSURE
AMAZON ASSOCIATES: Sandra Stitches is a participant in the Amazon Services LLC Associates Program, an affiliate advertising program designed to provide a means for sites to earn advertising fees by advertising and linking to Amazon.com.
This post contains links to products that I use and recommend, If you purchase any using my links I get a very small fee at no ad to you! Thank you for supporting my small biz!
More Free Crochet Patterns: