Happy Halloween to you all!
Looking for an easy Halloween hexagon crochet Hotpad idea? Well, this is your lucky day! This hexagon pad with a spider net attached in Halloween-themed colors is for you!
Grab your red and black leftover yarns and let's start our Halloween decor journey!
---
Find the free pattern below or purchase the ad-free PDF version of this pattern on Ravelry. The PDF is designed for printing and this way you can support me! Thank you!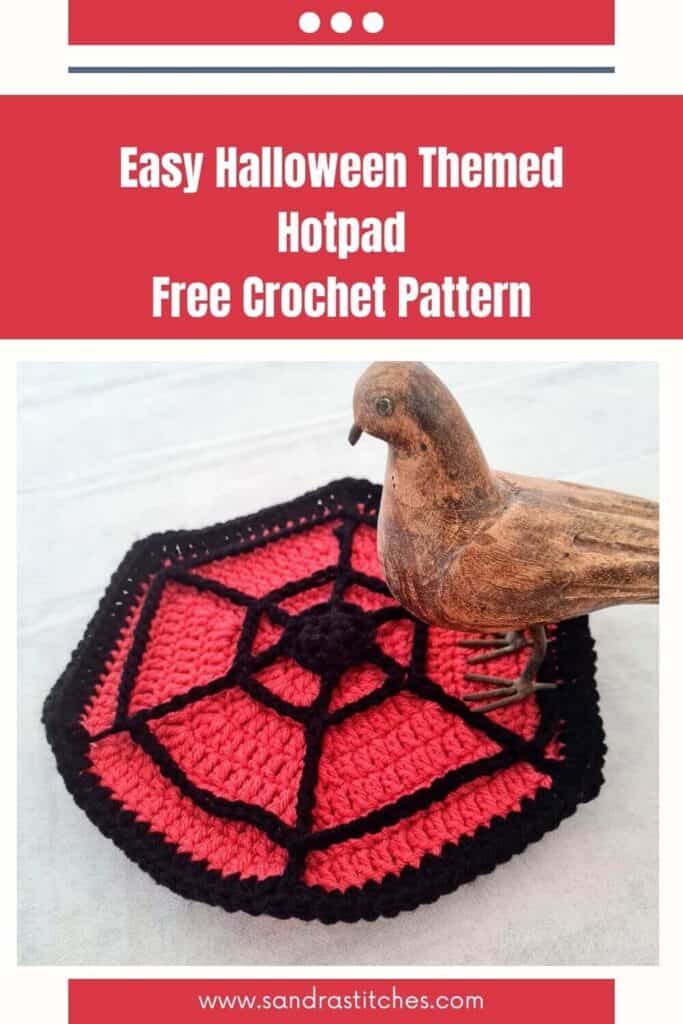 Is this spooky?
A crocheted hexagon Halloween-themed hot pad is a fun and festive way to add a touch of spookiness to your kitchen. This hot pad can be made using any type of yarn, but a dark color like black or red would be especially appropriate.
The hexagon shape is perfect for creating a spider web pattern, and you can add other Halloween-themed elements like pumpkins, bats, or ghosts. This hot pad is a great way to show your creativity and celebrate the Halloween season.
No matter how you choose to make it, a crocheted hexagon Halloween-themed hot pad is sure to be a hit with everyone who sees it. So get crocheting and start celebrating Halloween!
** Some of the links in this post may include affiliate links. Making a purchase through one of these links pays me a small referral fee at no added cost to you. These small fees add up and help me keep the blog running. View our Disclosure and Privacy Policy for more information.
---
---
Before you get started, check out my newest favorite finds!
---
Yarn Binder – a perfect crochet accessories
Granny Squares Book – an ulitimate guide
---
Pattern Designed By: Sandra Stitches This pattern is copyright protected; it is unlawful to distribute this pattern in any form (free, sale or trade).
Let's get to the Pattern, shall we?
Difficulty
Beginner
Materials
Cygnet Chunky, 100 gr, 100% Acrylic, 156 m, in color Crushed Berry (C1), and Black (C2)  – less than 1 skein of each, Use your stash!
Subs can be: any Acrylic yarn in Aran weight
Hook: US Size H-8(5 mm)
Yarn Needle, Scissors, Measuring Tape
Gauge
Sizes
This sample is 11"
Stitch Key
Ch = Chain
Sc = Single Crochet
Dc = Double Crochet
SlSt = Slip Stitch
Tr = Treble Crochet stitch
---
Specialty Stitch & Technique Key
Tripple Tr = Triple Treble crochet stitch
Yarn over 4 times, Insert hook in next stitch, Yarn over and pull up loop (6 loops on hook),yarn over and pull through 2 loops 5 times
Notes
The pattern is worked in rounds .
Ch2 does not counts as st at the beginning of first round
You can work this pattern with one color or multiple as you wish- I used 2 different colors for the Halloween theme
This pattern of two pieces: one hexagon and one spider web
If changing colors make sure to have a changing technique and weave your ends in.
Instructions
The Hexagon
Ch 3, join with a SIst to form a ring.
Round 1: (C1) Ch 2. Into the center ring, make 12 Dc, join with a sl st to the top of first st
Round 2: (C1) Ch 2, *[(Dc1 + Tr1 + Dc1) in 1st st from hook, Dc1 in next 2 st]* repeat from *to* to a total of 6 , Slst to the top of 1st st
Now we have a hexagon with 6 corners as Treble stitches.
Round 2:(C1) Ch 2, Dc 1 in 1st st,(Dc1 + Tr1 + Dc1)on top of every Tr to make the corner and Dc1 on top of each Dc around, Slst to the top of 1st st
Round 3-7 : (C1) Ch 2, Repeat round 2: working 1 Dc on top of every Dc and (Dc+Tr+Dc) on top of each Tr from prev row, Slst to 1st st.
Change to color 2
Round 8 : (C2) Ch 2, Repeat round 2: working 1 Dc on top of every Dc and (Dc+Tr+Dc) on top of each Tr from prev row, Slst to 1st st
You can continue and make this decor bigger by adding rounds and changing colors as you wish.
The Spider Web
Ch4, Slst to 1st ch to form a loop using black
Round 1 : Ch1, Sc 6, Slst to 1st st to close the round
Round2 : Ch 4 (counts as Dc+ch1), *[Dc1 in next st, Ch1}* repeat fro *to* around, Slst to 2nd ch to close the loop
Round3 : Ch 8 (counts as Dc+ch5), *[skip ch-space Tr1 in next st, Ch5}* repeat fro *to* around, Slst to 3rd ch to close the loop
Round4 : Ch 14 (counts as 3XTr+ch9), *[skip ch-space Triple Tr1 in next st, Ch9}* repeat fro *to* around, Slst to 5th ch to close the loop
Fasten off the yarn, cut, and weave in the ends of both parts
Finishing
Lay the wen on top of the hexagon and attach by sewing corners
---
Ways to style your Halloween-themed HotPad
Layer it with other kitchen textiles. Place the hot pad on top of a placemat or runner in a coordinating color. You could also layer it with a kitchen towel or apron for a more festive look.
Hang it on the wall. If you don't need the hot pad for its intended purpose, you can hang it on the wall as a piece of art. Use a command hook or nail to secure it in place.
Use it as a coaster. If you have a coffee table or end table in your kitchen, use the hot pad as a coaster for your drinks. This will help to protect your furniture from hot or wet spills.
Did you try this Pattern? Share a picture
Tag me on Instagram
@sandrastitchesil
---
---
Want to save this post for later? Pin it!
---
More ideas for HotPads?
---
DISCLOSURE
AMAZON ASSOCIATES: Sandra Stitches is a participant in the Amazon Services LLC Associates Program, an affiliate advertising program designed to provide a means for sites to earn advertising fees by advertising and linking to Amazon.com.
This post contains links to products that I use and recommend, If you purchase any using my links I get a very small fee at no ad to you! Thank you for supporting my small biz!