Hey there, my amazing crochet Friends!
Get ready to embark on a wonderful crochet journey with a fantastic new pattern I have for you.
Today, I'm thrilled to share a Simple Crochet Scarf Pattern, a free and fabulous design that will have you hooked!
This pattern features the amazing beauty of the variegated yarn I used, and it is a One-row repeat stitch pattern!
How cool is that?
Imagine the joy of working on this scarf, stitch by stitch, as the variegated yarn creates all color transitions.
With just a few simple stitches, you'll create a stylish accessory that will make your wardrobe a bit more fantastic!
Find the free pattern below or purchase the ad-free PDF version of this pattern on Ravelry. The PDF is designed for printing and this way you can support me!
It's a great pattern because:
Daaaa: It is a one-row repeat.
You can use variegated yarn or not
It is so repetitive it calms you down
You can work it and watch your favorite show at the same time
The texture of the fabric is cozy and warm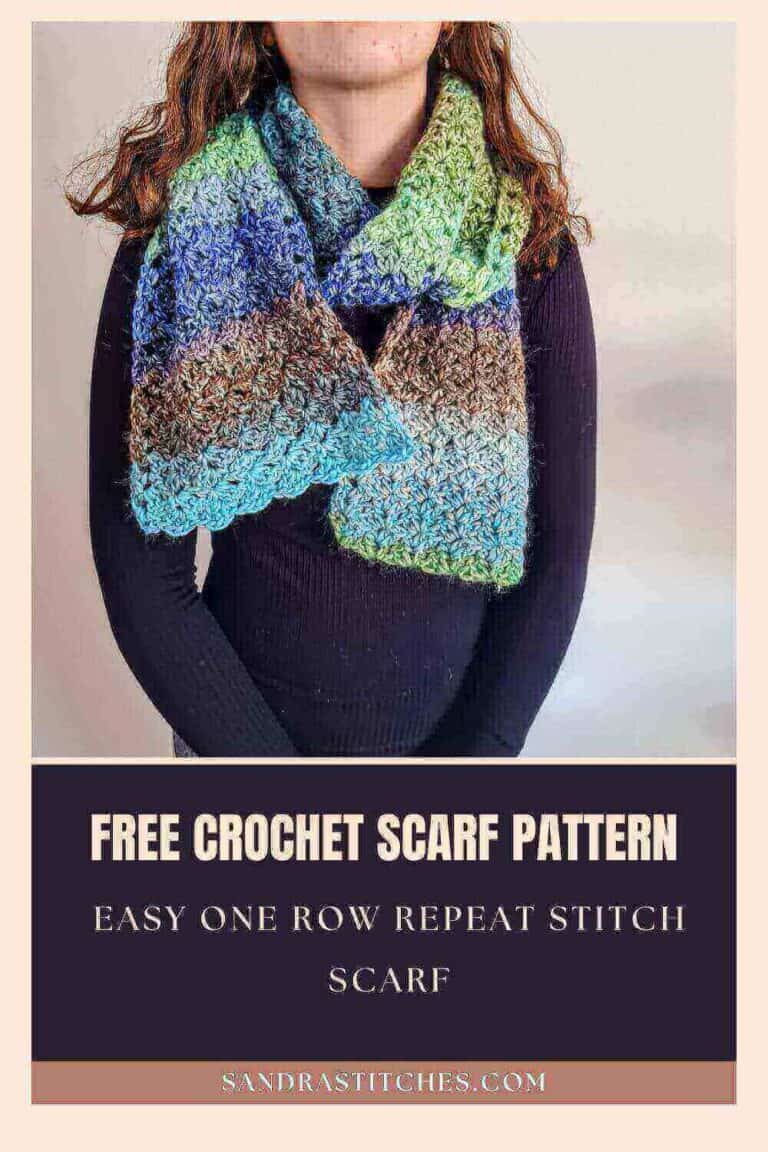 ** Some of the links in this post may include affiliate links. Making a purchase through one of these links pays me a small referral fee at no added cost to you. These small fees add up and help me keep the blog running. View our Disclosure and Privacy Policy for more information.
Before you get started…
Check out my favorite tools and materials
Neck stretcher on Amazon
Tassel Maker on Amazon
Tapestry Needles on Amazon
Let's get to the pattern, shall we?
Difficulty
● Beginner Friendly
Materials Used
1. James C. Brett RUSTIC Double Knitting
Tweed With Wool. 20% wool, 77% Acrylic, 3% viscose . 276 m / 302 yards. I used two Skeins
2. 6mm hook, scissors, tapestry needle.
Measurements
Length: 66 " 167 cm Width: 9" 23cm
Stitches Used
ch = chain
dc = double crochet
Sc = single crochet
st = stitches
Gauge for this pattern using
this yarn:
10cmX10cm = 15 st X 8 rows
Pattern Designed By: Sandra Stitches This pattern is copyright protected; it is unlawful to distribute this pattern in any form (free, sale or trade).
Let's continue…..
Notes:
This Mountain Day Scarf is made with this beautiful variegated yarn has all
the colors a mountain scenery has. The blue skies, the browns, and the grass greens.
If you are into the Hygge style and feeling, this Scarf is a perfect match.
This Pattern is beginners friendly, it uses only basic stitches, of course, you have to
be familiar with single crochet, double
crochet,
This pattern is made in Rows.
This pattern is two rows repeated, so
you can decide about the length as you go.
This pattern has a foundation chain of a multiple of 3+1
Please make a gauge before you start to count your measurements with the
specific yarn of your choice.
Of course, you can choose any
combination of colors or make it with one color as you wish!
Want to save this post for later? Pin it!
Now to the Instructions:
Foundation chain: multiples of
3+1, I started with 41 chains
Row1: int 4th ch from hook dc 1, ch 2, sc1 all in the same ch. *[sk 2 ch, (dc 2 + ch2 and sc 1) in next ch]* repeat from *to* to the end of the row. Make
sure you finish the row with a sc.
Row2 : ch 3 and turn your work (counts
as 1st dc) (dc1 +ch2 + sc1 )into first ch space from prev row, *[dc 2 +ch 2 + sc1] *in the next ch space from the prev row repeat from *to* to end of row. The last sc is made on top of the beginning ch3 from
prev row.
Row3: repeat Row 2 as many rows as you want your scarf length to be.
DONE!!
Copyright protected. You may not redistribute pattern after purchase or publish any part as your own including photos. If sharing online you must link back to this original post. You may sell finished products and if possible, reference back to this pattern and/or give credit to Sandra Stitches by Sandra as the original designer.
You can also add fringe or tassels ( here is a video tutorial)
Free ways to share and support me
Favorite this pattern on Ravelry
PIN on Pinterest
Share in your story on Instagram
Share on Facebook

Thank you so much! 🙂
.
Get your Ad-Free version on Ravelry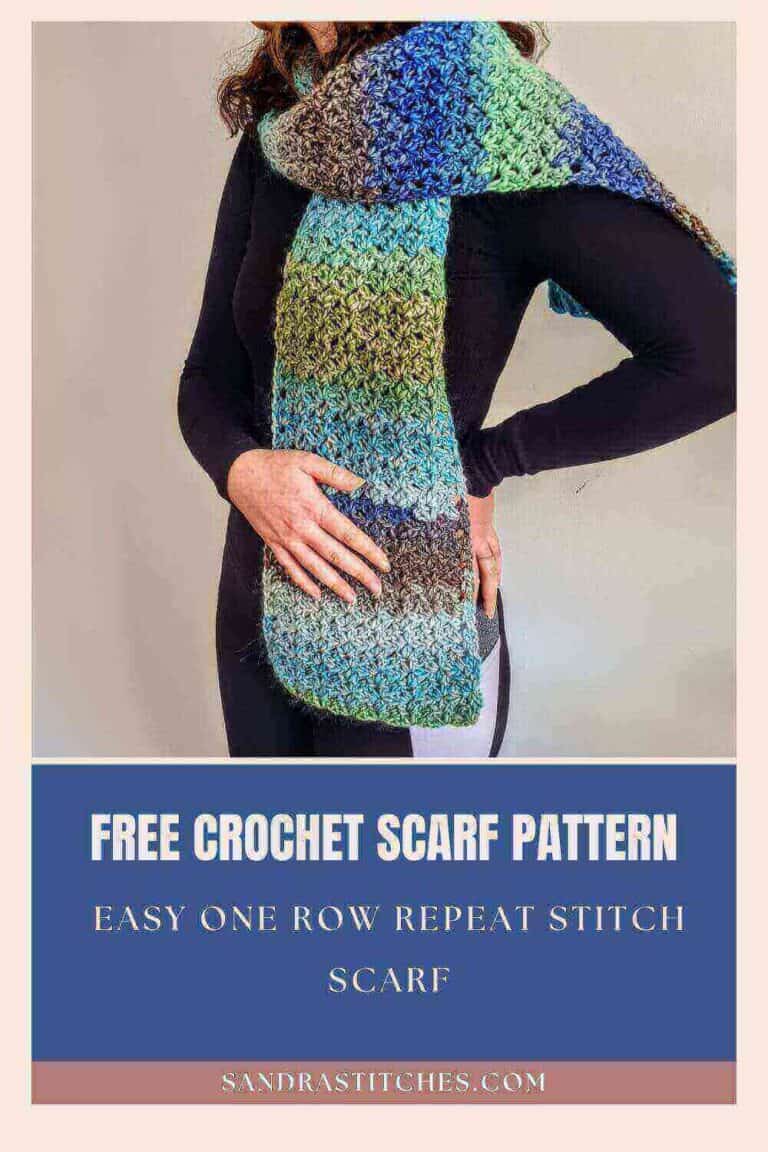 Interested in a professional Paperback Crochet Planner?
Before you leave 🙂
Did you try this pattern?
Share a picture
Tag me on Instagram
@sandrastitchesil
DISCLOSURE
AMAZON ASSOCIATES: Sandra Stitches is a participant in the Amazon Services LLC Associates Program, an affiliate advertising program designed to provide a means for sites to earn advertising fees by advertising and linking to Amazon.com.
This post contains links to products that I use and recommend, If you purchase any using my links I get a very small fee at no ad to you! Thank you for supporting my small biz!