Hello, my crochet friends! This one is close to my heart! I go back to it every time I feel down…
As a crocheter myself, I know how much joy it can bring.
If you're looking for a way to add even more love and happiness to your practice, check out this free collection of crochet affirmations! They're incredible!
This is a Download that you can use.
These affirmations are designed to help you boost your confidence, creativity, and overall well-being as you crochet. They are short, simple, and easy to remember, so you can repeat them to yourself whenever you need a little pick-me-up.
I created these affirmations because I believe that crochet is more than just a hobby. It's a way to express yourself creatively, relax and de-stress, and connect with others who share your passion. And when you crochet with a positive mindset, the results are even more magical!
So what are you waiting for? Download your free copy of the crochet affirmations today and start crocheting with confidence and joy!
So if you're ready to take your crochet projects to the next level, grab your copy now!!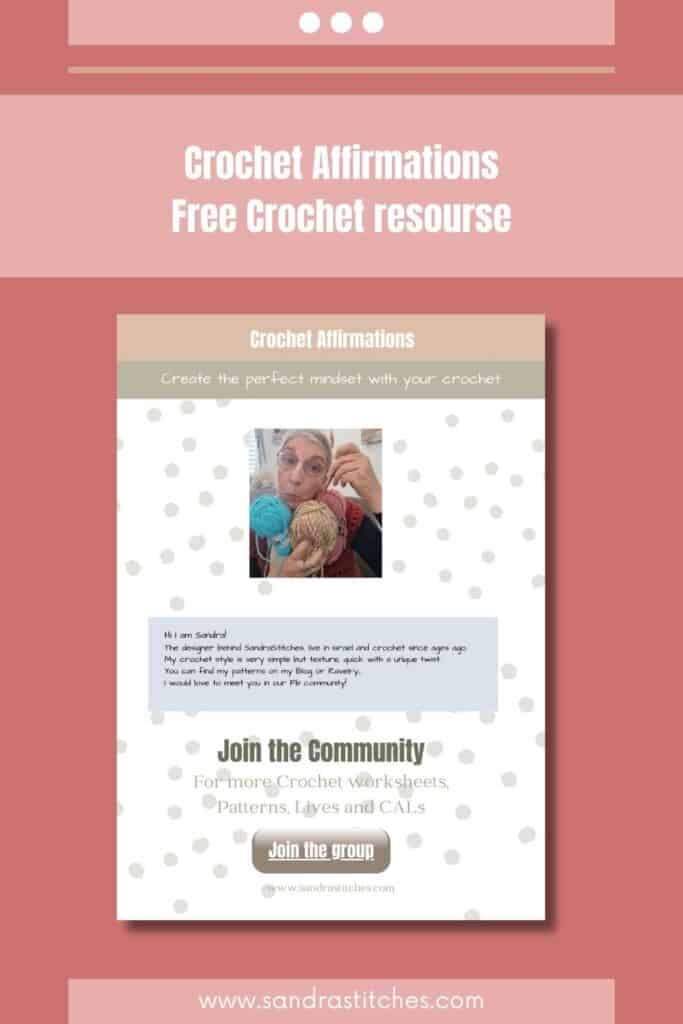 ---
Here are 5 ways to use the crochet affirmations:
Repeat them to yourself as you crochet. This is a simple but effective way to internalize the affirmations and boost your confidence and creativity.
Write them down and post them in a place where you will see them often. This could be in your crochet corner, on your fridge, or even on your bathroom mirror.
Read them out loud to yourself. This can be especially helpful if you are feeling stuck or discouraged.
Share them with other crocheters. This is a great way to build community and support each other on our crochet journeys.
Use them as inspiration for your crochet projects. For example, if you are feeling stuck on a design, choose an affirmation that speaks to you and let it guide you.
I hope you enjoy these affirmations! Be sure to tag me on social media (@sandrastitchesil) and let me know how they are helping you on your crochet journey.
Stay Calm and Crochet!
Sandra
---
Check out these Free Resources