Hey there, my dear friends! Today, I am thrilled to share a fabulous 3 strands yarn scarf Pattern with you.
This Chunky Scarf Pattern is perfect for beginners, and what makes it extra unique is that we'll be using not one, not two, but three strands of yarn to create a wonderfully thick and warm texture.
So, grab your 12 mm crochet hook, gather your favorite yarns, and let's get started on this fun and fashionable project.
Find the free pattern below or purchase the ad-free PDF version of this pattern on Ravelry. The PDF is designed for printing and this way you can support me!
It's a great 3 strands yarn scarf pattern because:
It's perfect for beginners: This pattern is designed with beginners in mind, making it a great starting point for anyone new to crochet.
Quick and easy: With its simple stitch and chunky yarn, this scarf works up in no time, making it a satisfying and rewarding project.
Cozy and warm: The use of three strands of yarn creates a thick and plush texture, resulting in a scarf that will keep you incredibly warm during those chilly days.
Versatile and stylish: The chunky look of this scarf adds a trendy and fashionable touch to any outfit, making it a versatile accessory for both casual and dressy occasions.
Customizable: You can mix and match colors with the three strands of yarn to create a unique and personalized scarf that reflects your individual style and personality.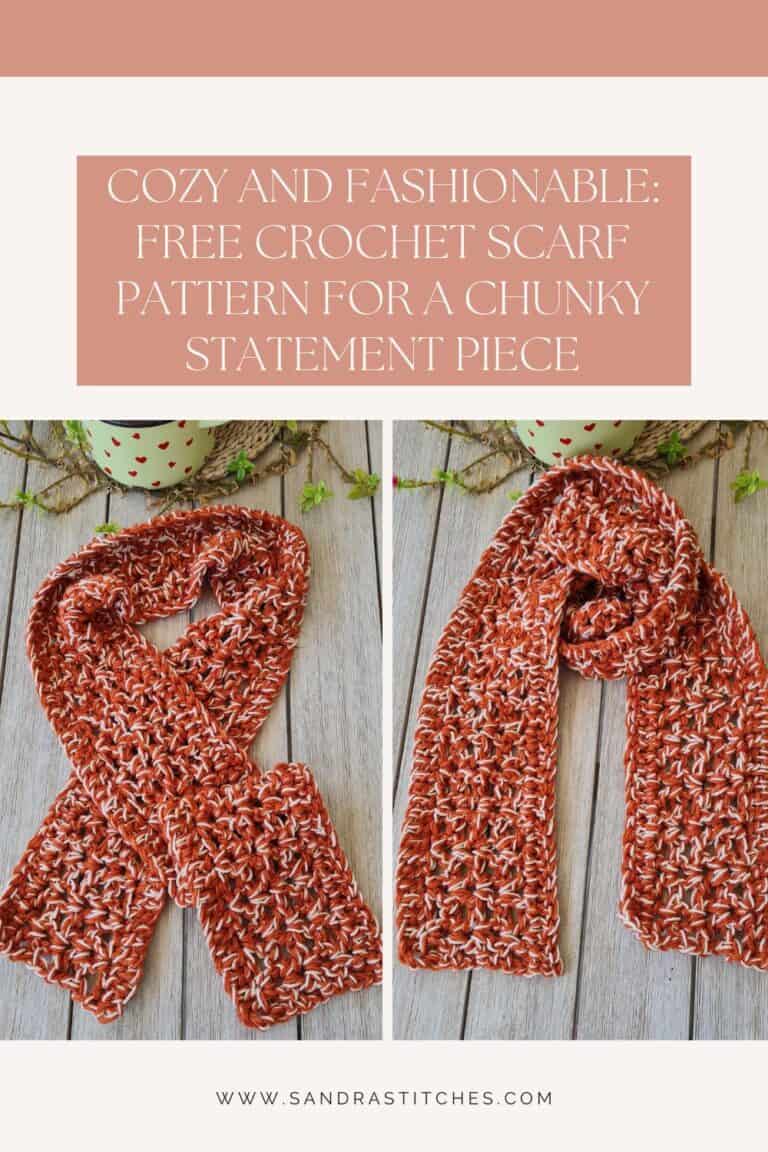 ** Some of the links in this post may include affiliate links. Making a purchase through one of these links pays me a small referral fee at no added cost to you. These small fees add up and help me keep the blog running. View our Disclosure and Privacy Policy for more information.
Before you get started…
Check out my Favorite items and tools for this project
Colorful Bobby pins as crochet markers on Amazon
---
Let's get to the pattern, shall we?
3 strands yarn scarf
Difficulty
Beginners
Materials
Yarn: Cygnet Chunky Yarn, 100gr, !00% Acrylic, 156m in color Pumpkin, 2 skeins (two strands)
Alize Klassic Burcum, 100gr, 100% Acrylic 210 mt, 230 yds, color491, less than 1 skein ( 1 strand)
Subs can be:https://yarnsub.com/yarns/cygnet/chunky
Hook: 12 mm, Yarn Needle, Scissors, Measuring Tape
Gauge
Sizes
Can be modified as you wish by adding chains and rows. This sample is 7" wide and 70" long
Stitch Key
Ch = Chain
St = Stitch
Dc = Double Crochet
Specialty Stitch & Technique Key
V st : (Dc1 + Ch1+Dc1) in the same st
---
---
Notes
The pattern is worked in rows
It uses 3 strands held together (two pumpkins and one peach)
Ch3 does counts as st at the beginning of each row
Ch1 at the beginning of the row does not count as a stitch
This pattern uses pattern repeats.
You can work this pattern with one color or multiple as you wish- I used one color.
If changing colors make sure to have a changing technique and weave your ends in.
You can decide on the width and length of the Scarf by adding chains and rows
Pattern Designed By: Sandra Stitches This pattern is copyright protected; it is unlawful to distribute this pattern in any form (free, sale or trade).
4 ways you can style this 3 strands yarn scarf
Classic Wrap: Drape the chunky scarf around your neck, allowing both ends to hang evenly in front. This timeless style adds a cozy and effortless touch to any outfit, whether it's a simple sweater or a stylish coat.

Infinity Loop: For a more contemporary look, twist the scarf once or twice and then loop it around your neck, creating an infinity scarf. This stylish and snug style keeps you warm and adds an interesting visual element to your outfit. It pairs beautifully with jackets, coats, or even a cozy sweater.

Draped Shawl: Embrace the versatility of this chunky scarf by wearing it as a shawl. Simply drape it over your shoulders, allowing it to hang down your arms like a stylish wrap. This look is perfect for chilly evenings or when you want a touch of warmth and elegance to accompany your dress or blouse.
Want to save this post for later? Pin it!
And the instructions are…
Use 3 strands of weight #4 yarn  and a 12 mm hook Chain 110
Row 1: Dc1 in 4th Ch from hook, Dc1 in next st and across to the end of the row, turn
Row 2:  Ch 3 (counts as 1st Dc), skip 2 st, Vst in next, *[skip 2 st, Vst in next]* repeat from *to* to end of row, end with skip 1 st and Dc1 in last st, turn 
Now Row 3: Ch3, Vst in Ch1 space from prev row, Vst in next Ch1 space and across to end of row, end with Dc1 in last st
Rows 4 and 5: Repeat Row 2
Last Row 6:  Ch3, Dc1 in next st, Dc1 in Ch1 space, Dc1 in next st and across to the end of the row
Fasten off yarn, cut, and weave in ends
Finishing
You can add tassels, fringe or pom poms to both ends of the Scarf
How to make pom poms with your fingers
---
---
Free ways to share and support me
Favorite this pattern on Ravelry
PIN on Pinterest
Share in your story on Instagram
Share on Facebook

Thank you so much! 🙂
.
Get your Ad-Free version on Ravelry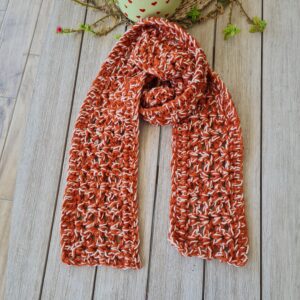 Interested in a professional Paperback Crochet Planner?
Before you leave 🙂
Did you try this pattern?
Share a picture
Tag me on Instagram
@sandrastitchesil
Questions?
Ask and share in our
FREE Facebook Group
DISCLOSURE
AMAZON ASSOCIATES: Sandra Stitches is a participant in the Amazon Services LLC Associates Program, an affiliate advertising program designed to provide a means for sites to earn advertising fees by advertising and linking to Amazon.com.
This post contains links to products that I use and recommend, If you purchase any using my links I get a very small fee at no ad to you! Thank you for supporting my small biz!